ONE

Thanks for entering to win the great free trip to Cologne for Gay Games VIII in 2010.
Cologne stands for more than 2.000 years of urban history, the stunning Cologne Cathedral, Kölsch (Cologne beer) and, of course, for Carnival. Furthermore, Cologne is a synonym for an open-minded stance, for tolerance and for solidarity. One of Europe's most lively gay and lesbian communities proofs that. And last but not least, Cologne is the venue for the yearly CSD Köln/Cologne Pride, the largest and most multifaceted political event for lesbian and gays in all of Europe.



Cologne is very much looking forward to hosting the Gay Games in Cologne, which will take place in August. We are proud to organize this outstanding happening in our city, which will be attracting a large number of visitors, who are most welcome.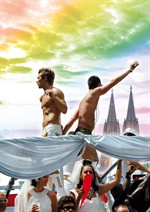 Terms and conditions:Prize consists of two Lufthansa return tickets to Germany at the time of Cologne Gay Games July 31, and includes two nights accommodation at the Radisson Blu hotel Cologne. Prizes are not transferable for cash, and are subject to blackout periods as per hotel and airline conditions.
Out Now, GCN and German National Tourist Office (GNTO) cannot be held liable for any loss no matter how arising and by entering you agree to this. Insurance for loss and/or damage is entirely the responsibllty of the prize winner. Out Now, GCN and GNTO reserve the right to change any aspect of this promotion subject to availabilities.
Your details will not be released to anyone other than Out Now, and GNTO. You get to receive email special offers and valuable LGBT specific promotions from ONE Out Now Exclusive - if you decide not to receive these you are of course free to opt-out at anytime.
Thanks again for entering to win this wonderful prize - and the very best of luck to you!
We hope to see you in Cologne in 2010.
For information on visiting Germany, visit MyGayGermany.com and to book flights now visit Lufthansa.ie .