Public Relations
Out Now maintains a strong presence for our clients in both mainstream and LGBT media, including The Huffington Post Gay Voices in the UK and USA, The Telegraph, Marketing Week, The Drum and many more.
An increasing number of companies find they have a need for communications outreach to the gay and lesbian consumer market.
Yet most have very little understanding of how their lesbian and gay consumer audience is the same as, and how they differ, from other mainstream markets.
As result much of what is portrayed as 'targeted' gay PR is really just bad public relations tied up in a pink or rainbow ribbon.
Lesbian and gay market consumers, like all consumers, can sense insincerity easily.
Brands need expert guidance to make sure that their communications strategy is optimized to communicate as effectively as possible with a gay consumer market audience. Increasingly this includes content written by LGBT journalists and personalities in mainstream, as well as LGBT media.
That requires consumer insight, as well as contact - the kind that comes from almost two decades of understanding and meeting the marketing and communications needs of gay and lesbian people.
We help our clients understand how the PR story they have to tell fits into the lives of gays and lesbians - not as consumers, but as people who are represented in all types of media.
We match message relevance with target audience expectation - to create gay and lesbian communications outreach that immediately positions Out Now clients as well informed and savvy marketers with the target audience that matters most when it comes to gay and lesbian PR. With gays and lesbians themselves.
That's what Out Now brings to the field of public relations.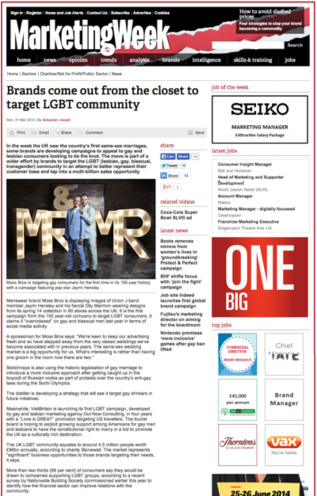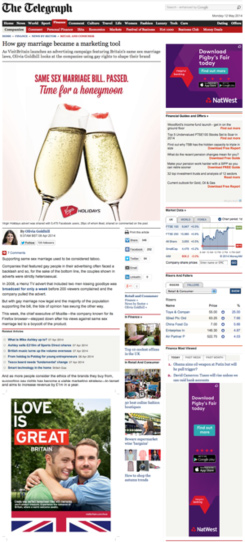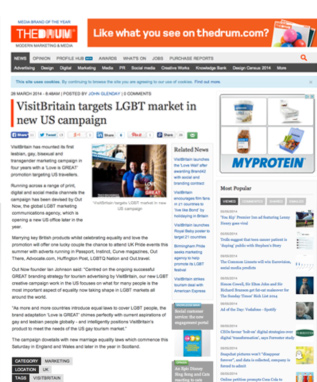 Case Study - World Outgames VIP reception during the London Olympics

Out Now was the agency responsible for organising a VIP reception at Belgium's Olympic House for the World OutGames, which were held in Antwerp in 2013. Our brief for this particular project was as follows:

· To drive awareness and attendance of the World OutGames in 2013
· To drive awareness of Antwerp and Flanders as a travel and cultural destination
· To connect with and leverage event guests as key influencers and potential ambassadors
· To drive media awareness of the 2013 Games and Antwerp/Flanders as a travel destination

A total of 107 people accepted the invitation and on the night and there were 61 invited guests who attended.

The room was a good mix of media and key influencers including Peter Tatchell, Brian Paddick and Ivan Massow. The BBC, Guardian, Gay Star News, GaydarRadio, Classic FM and Deutsche Press were among the media organisations represented.

From financial circles Lloyds Banking Group, Barclays, BNY Mellon and Cramer Pelmont and Blavo and Co from the legal side were all in attendance.

As well as attracting a significant amount of valuable LGBT media coverage, Ivan Massow also wrote a full-page article in the Evening Standard. Read full article here.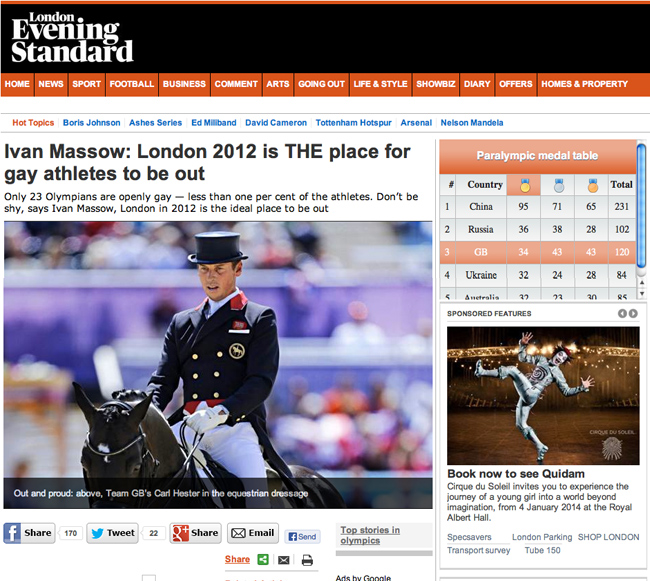 Out Now continues to deliver the highest quality PR results for our clients. We use original and exciting events, and engaging subject matter and topics to help the world's leading media keep their content fresh and exciting when writing about our client's destinations.

To discuss how we can position your product, service, destination or company front-of-mind with leading LGBT media professionals and influencers, contact us today.


Return to list of Out Now gay market services