Strategy
Gay market strategy affects every client marketing project Out Now delivers.
Over two decades, Out Now has amassed an unrivalled level of insight into the key strategic issues that affect gay marketing success.
Coupled with the world's longest continuous lesbian and gay market research program, our strategic insight has grown in the only way possible.
Through years of delivering effective gay market results.
Our clients understand our vision that great gay marketing is no accident.
It requires extensive experience, inspired insight, detailed gay market knowledge and sophisticated intelligence in implementation.
All this - and much more - is distilled into Out Now's world-leading delivery of gay marketing services.


Case study - Stockholm's Stylish Lesbian Moves

LGBT marketing is advanced by leadership.

It is one of the hallmarks of Out Now that we create some of our best work when our client is one which is pleased to work on that marketing leading-edge with us.

The most successful lesbian-specific social media marketing campaign is a good case-in-point - it was for Out Now client Stockholm Visitors Board and Visit Sweden - two organisations that have been responsible for seeing Stockholm place highly in the annual LGBT2020 research data.

LGBT marketing success does not just happen.

It takes imagination, commitment and implementation - and the 2011 'Stockholm's Leading Ladies' campaign targeting the UK lesbian market is a textbook example of the results able to be derived from the liberal application of all three of these marketing ingredients.





Lesbian marketing does not have to be done with a little L

There has been a lot of recognition over the last few years that the LGBT market is not just one single market.

'Homosexual, not homogenous' - is a term that Out Now Consulting coined a few years ago, and it is a position that is now fairly well established within LGBT marketing circles. One quarter of the acronym LGBT probably has more reason to celebrate this shift in thinking than any other, and that is the lesbian market.

For a long time companies, destinations and brands that wanted to reach the LGBT market did so with advertising that only portrayed gay men in their attempts to woo both the gay and lesbian market. However this approach quickly became passé, and non-representational ads of young chiselled men with very few clothes on increasingly run this risk of looking clichéd - and showing no real insight into the lives of real LGBT people.

The plus side of this for advertisers looking to engage with an L,G,B or T audience, is that by embracing diversity in their campaigns they can also showcase a much broader range of aspects of their products, which will appeal to all segments of this diverse community.

Stockholm's Leading Ladies

One such campaign that Out Now was delighted to work on over the last two years was Stockholm's Leading Ladies campaign. Stockholm is of course one of the most committed and consistent cities in the world when it comes to a forward-thinking LGBT marketing strategy. Over a number of recent years Stockholm has built a solid reputation as a progressive and tolerant city, where the LGBT community is celebrated and supported, and seen as a real asset to the city's international image as a truly diverse and modern metropolis for the new millennium.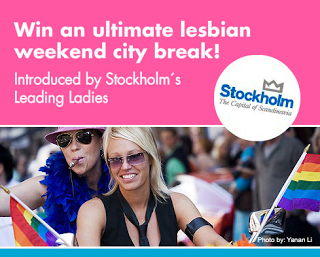 As well as hosting frequent visits by journalists from the world's leading LGBT media, Stockholm has also utilised a well-planned international marketing strategy, and a solid and innovative social media platform to communicate the many desirable qualities that the city has to offer for everyone, including of course, LGBT visitors. The success of this activity is evident in the number of people who are expressing an interest in visiting Stockholm, which consistently ranks highly in LGBT2020 research amongst other prestigious European cities vying for the attention of this attractive segment.

So what does a destination that has done so much in terms of their engagement with the LGBT market do next? Well - in the case of Stockholm, a destination that has always looked to do what is next and set the trends, not follow them, a dedicated lesbian campaign seemed not only logical - but inevitable. As anyone who has visited this beautiful city will tell you it has a feminine power that is hard to miss. Simultaneously at one with nature, yet also modern and energetic, safe and progressive, yet still retaining an air of the wild and a sense of unpredictability, Stockholm nurtures its lesbian community - which is why it made perfect sense to include them in a campaign about what makes Stockholm such a fantastic 'Lesbian with a capital L' destination.

"Ladies" starts with the letter 'L'

The Leading Ladies campaign took it's theme from Sweden's eminent actresses including the likes of Ingrid Bergman and Greta Garbo, whose style and timeless grace exemplify Stockholm's own personality so well. By using social media, a platform that Stockholm Visitor's Board has used so successfully in the past, the campaign was able to be bought bang up to date, and so highlighted the modernity of the city as a destination.

Stockholm continued to innovate with the delivery mechanism of the campaign, which sought to engage with the target lesbian audience in a fun and engaging manner - and which also successfully communicated an authentic invitation for lesbians to visit the city. Stockholm was able to find eight lesbian residents of the city who each described online what they loved most about the city that they called home. These 'perfect Stockholm weekends' were able to be voted on by the target audience, who then had the chance to win their own city break for two people to Stockholm.

By partnering with leading lesbian magazines, blogs, and online and social media communities, the campaign managed to effectively reach and engage with lesbian communities across the United Kingdom.

The uptake and engagement with this campaign was beyond all expectations - generating excellent results but also a great deal of kudos from the lesbian community that Stockholm saw them as a valuable market within its own right.

During and just after the campaign the resulting traffic to Stockholm's official blog increased by 86,7 %, traffic to Stockholm's Lesbian Guide has increased by 167%, and the competition gained 126 entries from the UK alone.

Just on these metrics alone the campaign was judged to be a huge success - but we think that Stockholm's accomplishment here goes much, much further.

At Out Now we believe that marketing is so much more than just pictures and words on a page. It is about establishing and defining the leading edge, and understanding how best to communicate with credibility, empathy and sensitivity - three qualities that we believe Stockholm got absolutely right with this forward-thinking campaign.


Hats off to stylish Stockholm for a brilliant case of marketing leadership.
The 'Stockholm Leading Ladies campaign ran for two months in 2011 and was the most successful lesbian-specific marketing campaign in the world to date. The campaign was conceived and implemented by Out Now for our clients Stockholm Visitors Board and Visit Sweden. Members of Out Now Business Class can view details of this campaign on both video and as a case study in the Education section of ONBC - visit BetterLGBT.com for membership information. Check out Stockholm's LGBT Facebook page.

Return to list of Out Now gay market services