'LGBT Diversity: Show Me The Business Case' will be released in January 2015. You can
.
Preliminary data has been presented at the Out & Equal Workplace Summit in San Francisco, Nov 2014.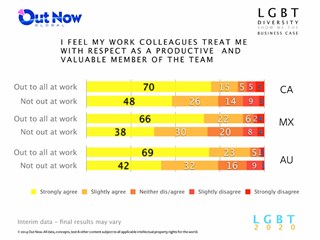 The report is to be made available free-of-charge online and we sense there is a very strong appetite for this release. Coverage in the Huffington Post on data from the US sample of the report was the
headline story in 'Gay Voices'
at the end of October 2014.
You can see from this link
http://huff.to/1wFaSEb
that in that article's first week it received over
2,000 direct social media interactions
and as a result Out Now received
well over 400 requests
for copies of the new 'LGBT Diversity: Show Me The Business Case' report.
Sponsoring.
Here is a link that shows the way Aviva Insurance is choosing to leverage their involvement with the research:
http://bit.ly/1wQI3pL
Organizations and individuals can become supporters with their names or logo included in the front of the report for USD$1000 listed as "
Allies
".
For a USD$2500 contribution they will be listed as "
Champions
" and can include a quote from a company spokesperson into the front of the report.
For USD$5000 they are listed as "
Leaders
" and can include a photo and quote into the front of the report. We are also able to consider a limited number of "Presenting sponsor" options for a company interested in engaging at a higher level.
If your company would like to become involved as a sponsor please do contact us for further details.
Thanks again for choosing to advance LGBT equality - it is people like you that make all the difference in the world.