Out Now Releases World's First Analysis of LGBT Workplace Allies
Large-scale study reveals more than 50% of enterprises need to do more to support LGBT workplace issues
REPORT DOWNLOAD LINK: http://Work.LGBT
A new study - 'LGBT Allies: The Power of Friends' - is released today (October 3, 2016), revealing key insights about the power of people who choose to positively support their LGBT colleagues at work.

Referred to as 'Allies', these people have in recent years been frequently cited by diversity and inclusion practitioners. This is the first time, however, that any large-scale evidence about the importance of LGBT Allies in the workplace has been compiled.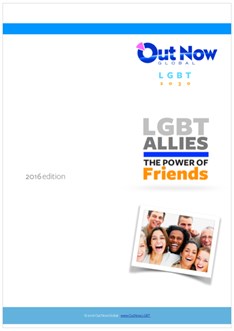 The new study is released by Out Now - a diversity consulting specialist with 25 years' experience recently named one of the 'Top 10 Diversity Consultants' in the Global Diversity List.
The research was undertaken from January to August 2016 and sampled 2,584 LGBT Allies across 60 countries.

Key findings:

People who feel their company actively supports their role as an LGBT Ally say they are 13% more likely to stay working with their current employer. Retaining quality personnel is proved to be one of the important challenges facing modern businesses - this research reveals a new way for businesses to better achieve this through LGBT Allies.

The most common positive action undertaken by LGBT Allies is to mention LGBT people or topics positively in the workplace - which was done by 87% of all respondents.

The second most common action is speaking up against an anti-LGBT discussion others were having at work. This was undertaken by 43% of all respondents.

An important factor affecting whether people choose to support LGBT colleagues is whether there is stated and visible support by management for doing so (this was cited as 'very important' by 63% of respondents).

As well as becoming more likely to remain with their current employer, respondents working with employers that provide formal support structures encouraging LGBT Allies at work report being 14% more likely to 'strongly agree' with the statement: 'this is a great place to work' when compared to respondents where such support is lacking.

However in many countries sampled, less than half of all respondents said they worked in enterprises where such support is provided.

The research suggests many worry there may still exist a stigma over a person's sexual orientation or gender identity in the workplace. 49% of respondents thought by supporting LGBT colleagues, others at work may assume the Ally themselves must be LGBT. The research in fact reveals most respondents to be heterosexual.

Ian Johnson, Chief Executive Officer of Out Now, said the new report is an important landmark.

"We have seen research insights about LGBT people for almost 25 years, but until now there was no research data available about the important issues faced at work by LGBT Allies," Johnson says.

"The release of Out Now's new 'LGBT Allies: The Power of Friends' report sheds powerful new light on key aspects of this group of people at work. We now understand in which ways LGBT Allies are operating and how enterprises can make their work more effective, to benefit everyone at work. In a competitive market environment, this information is invaluable to build workplaces that more effectively support LGBT people - and their Allies - at work. This is good news for the individuals themselves as well as the enterprises they work for."

Johnson said that companies not currently providing formal support for their own LGBT Allies at work now have strong incentive to do so, based on the data contained in the new research.

What others say about this topic:

Sir Martin Sorrell, Chief Executive Officer, WPP: "We see LGBT Allies as a vital component in the success of turning good inclusion policies into effective change- to make lives better. I am delighted to support this new Out Now work that is helping us all better understand the challenges LGBT Allies face - and ways we can work to make their role even more effective."

John Tedstrom, CEO, Tedstrom Associates: "Tedstrom Associates is pleased to support Out Now's new LGBT2030 report, measuring the importance of LGBT Allies at work. We see this data as being 'must read' information for many at work, especially those executives responsible for their businesses' competitiveness and success."
Ori Chandler, Managing Director at OUTstanding: "Unlocking support and equipping allies with practical guidance on how best to drive LGBT+ inclusion is hugely powerful. Out Now's new report brings fresh insights to help engage allies across the globe. It's important that businesses understand the value of having proud allies within their organisations, and for the allies themselves to feel educated, informed and empowered."

Jen Smith, Group Head of Diversity and Inclusion, Circle Housing: "At Circle Housing we really value colleagues' diversity and want people to feel free to be themselves at work. Our LGBT network group is open to all colleagues regardless of their sexual orientation because we realise that allies to the LGBT community have a huge role to play in enabling culture change."

Background notes:

The new study is sponsored by AXA, Societe Generale UK, Tedstrom Associates, Willis Towers Watson, AKJ Human Resources, NHS, Circle Housing and Bank of Tokyo-Mitsubishi UFJ.

The study is available for download at this link: http://www.Work.LGBT and is free-of-charge.

Out Now was established in 1992 and works with a wide variety of clients globally to advance the inclusion of LGBT people in the workplace, as customers and in society more broadly.

The firm's LGBT2030 research initiative is the world's largest and longest continuing global LGBT research initiative. The firm provides research, communications, education, training and strategic services to assist enterprises to better understand and meet the needs of their LGBT consumer base, employees - and those millions of people who support them.
###ends###