Out Now Business Class LGBT Village - ONBC at WTM 2013
LGBT Travel: New Opportunities - and Challenges - Explored at London World Travel Market with ONBC - Out Now Business Class Education and Exhibitor LGBT Village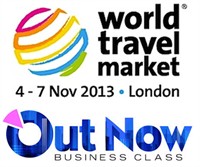 LONDON, UK - SEPTEMBER 19, 2013 (WTM/OUT NOW) -- The increasingly important and valuable LGBT (lesbian, gay, bisexual, transgender) tourism market has just received a boost - as two market-leading destinations were announced as premier exhibitors with the Out Now Business Class LGBT Village at World Travel Market. Europe's largest LGBT media company has also been announced as an exhibitor.

The dedicated LGBT exhibition space is hosted by the world's leading tourism networking association, Out Now Business Class - ONBC www.OutNowBusinessClass.com - which helps companies expand their reach and expertise to better cater for the lucrative LGBT tourism sector, which is currently valued at USD$181billion annual spend for 2013 (source LGBT2020 research study).

2013 is the second year ONBC has hosted dedicated LGBT market exhibition space, and this year the space has been expanded and rebranded as the Out Now Business Class LGBT Village at WTM.

Exhibitors already signed in to exhibit at the ONBC LGBT Village include Mexico Tourism Board, Greater Fort Lauderdale Convention & Visitors Bureau, Millivres Prowler - publishers of leading lesbian and gay media products DIVA and GT - Gay Times - as well as Out Now Global www.OutNowConsulting.com - the world's leading LGBT marketing specialist organisation.

Darren Cooper, Senior Consultant at Out Now, said: "There are now more airlines, tourism offices, hotel chains, tourist attractions and travel agents than ever before that want to better connect with LGBT people as customers.

"We have been especially pleased to see that this year's Out Now Business Class LGBT Village at WTM is appealing to new market entrants as well as experienced veterans alike, as both share the wish to make sure they connect with the key industry contacts for LGBT tourism development, as well as take back to their work the world's-best standards of LGBT research data, staff training, communications tactics and strategic insights. ONBC delivers this in partnership with World Travel Market by hosting the official LGBT Village at WTM as well as presenting the Out Now Business Class LGBT Marketing Masterclass workshop. Catering for the LGBT tourism market is no longer seen as being 'niche' - it is now part of core business."

Milko Rivera Hope, Director of Mexico Tourism Board for the U.K., Ireland, Denmark, Norway, Sweden, Portugal and South Africa, said: "Mexico is a vibrant country with a wealth of outstanding unique product for all travellers.

"What we are really excited about is working with ONBC to help us better position this for the LGBT traveller . We are especially pleased to be showcasing this year's new #MexicoFriendly LGBT marketing campaign - which has become a social media success driving increasing levels of consumer attention. Visit Mexico plans to extend our engagement with the LGBT segment in markets around the world as we see this as key to our strategic growth plans into 2014 and beyond."

Richard Gray, Managing Director LGBT Market for Greater Fort Lauderdale Convention & Visitors Bureau, Fort Lauderdale said: "Fort Lauderdale has been a consistent participant in LGBT marketing since our campaigns started way back in 1996.

"One step we took recently has been to implement LGBT marketing into mainstream media environments. That has increased our cut-through with our target audience as well as reinforced key brand messages about how welcoming Fort Lauderdale is to all our guests. This is both good for our LGBT guests and good for our business."

Out Now Business Class is releasing a number of new initiatives including details of a new global consumer marketing channel, findings of the latest LGBT2020 research study - including new markets across Asia, new insights into the growing potential for gay honeymoons as well as a number of case studies and best-in-class examples. ONBC has stated that its key objective in its partnership with WTM is to make sure the tourism industry obtains the very best insights and marketing opportunities to better cater for the needs of the increasingly important global LGBT tourism market.

The ONBC Marketing Masterclass on LGBT tourism is being held at WTM on Wednesday November 6 at 11am - and all eligible delegates attending this essential-knowledge workshop will gain complimentary access to the ONBC www.OutNowBusinessClass.com networking association for 2014 (valued at USD$245). The LGBT Village hosted by Out Now Business Class at WTM is located at Stand EM1555 in the heart of the Europe section.

Information on the final exhibitor spaces remaining can be obtained by contacting Out Now directly via Darren.Cooper (at) OutNowConsulting.com.
-ENDS-

Contact information:

Out Now

Darren Cooper, darren.cooper (at) outnowconsulting.com www.OutNowConsulting.com
Follow us on Twitter - @gaymarket
Follow us on Facebook www.Facebook.com/gaymarket
Read our industry blog: www.GayMarketNews.com
Read our consumer blog: www.OutNowVillage.com
Check out our Out Now YouTube channel www.YouTube.com/gaymarketing
WTM

Paul Nelson, paul.nelson (at) reedexpo.co.uk, 0044 208 9107032
Follow us on Twitter - @WTM_London (#WTMVision)
Follow us on Facebook
Follow us on LinkedIn
Check out our WTM YouTube channel
About Out Now
Out Now develops LGBT marketing solutions utilising a range of strategies including gay and lesbian market research, LGBT niche media, online internet activities, tailored gay and lesbian advertising, targeted LGBT and mainstream public relations as well as below-the-line marketing activities to develop, and implement, integrated strategies for clients that deliver highly successful results. Out Now clients include IBM, Toyota, Lufthansa, German National Tourist Office, Switzerland Tourism, Turespaña and Hilton Hotels. In 2014, Out Now celebrates 22 years of market leadership in developing business-to-business and business-to-consumer marketing relationships with LGBT people. The company undertakes the world's largest LGBT market research program LGBT2020 www.LGBT2020.com which has sampled to date almost 100,000 LGBT people living in more than 20 countries worldwide.

www.OutNowConsulting.com
www.OutNow.travel
www.OutNowBusinessClass.com
About World Travel Market

World Travel Market, the leading global event for the travel industry, is the must-attend four-day business-to-business exhibition for the worldwide travel and tourism industry.

Almost 48,000 senior travel industry professionals, government ministers and international press, embark on ExCeL - London every November to network, negotiate and discover the latest industry opinion and trends at WTM.

WTM, now in its 33rd year, is the event where the travel industry conducts and concludes its deals.

WTM 2011 will generate £1,653 million of travel industry contracts, revealed independent research by Fusion Communications.

WTM is owned by the world's leading events organiser Reed Exhibitions (RE), which organises a portfolio of other travel industry events including Arabian Travel Market and International Luxury Travel Market.

In 2010, RE held more than 460 events in 36 countries bringing together more than seven million people from around the world generating billions of dollars in business.

www.wtmlondon.com